Warmer weather means special considerations for feral/free roaming cat colony care. Here are some tips to keep your feline friends cool and eating right.
Scroll down the page or click on a topic for links to helpful information.
FOOD TIPS
INSECTS & BUGS
WATER
TRAPPING
PROVIDE SHADED OUTDOOR AREAS
NEVER LEAVE A CAT ALONE IN A CAR
FOOD TIPS
Cats vary in their needs, for food, some will eat considerably more food, others less. The amount of food a cat needs depends on their size, the weather, and what other food sources are available. If a cat is feeding her young or is pregnant she will need more food.
On average, you can expect an adult cat to eat roughly 5.5 ounces of wet (canned) cat food and 2 ounces of dry food daily in temperate weather (add a half cup to that amount if only feeding dry food). Observe the cats and the time it takes for the food to be eaten. If the cats eat all of the food in 15 minutes or less, put out a bit more. Canned food is an excellent source of nutrition, providing it can be kept fresh and bug free.
Even if you're not having bug problems with wet food, you could be having another issue—wet food can dry out fast in the heat. To counteract this, add water. It has the added benefit of providing extra hydration for the cats.
Feed the cats on a regular schedule. Don't expect all of the cats to eat at the same time or worry that some may not be getting their share. Within a colony, cats with seniority or stronger personalities may eat before those who are lower on the social scale. Those who eat first leave food for the others. Do not be concerned about or try to manage this social interaction. It is perfectly normal.
Keep the feeding location neat and clean, for the health of the cats and for community relations. Keep the food dishes in one place to facilitate cleanup and to provide a tidy appearance, and again, remove feeding dishes within 30 minutes.
INSECTS & BUGS
When feeding in the summer, bugs can pose a problem. To help keep bugs out of the food: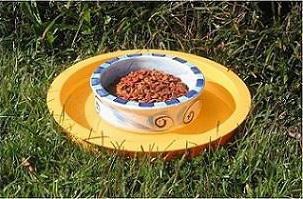 Place a small heavy bowl in the middle of a slightly larger bowl. Partially fill the larger bowl with water. The bugs cannot get to the food because it is surrounded by water.
Remove uneaten food within 30 minutes. Never allow food to sit out, as it may attract insects or wildlife. (Some cats may be slow to arrive at their meal so you may want to wait 45 or 60 minutes.)
Surrounding the food bowl with a ring of baking soda or water.
Placing a tray or flowerpot tray with about half an inch to an inch of water in it on the feeding station platform and then placing the food bowl on the tray.
Elevating feeding stations slightly off the ground
Surrounding feeding stations with a line of food-grade diatomaceous earth without chemical additives (available from some natural food stores and environmentally conscious pet-care supply companies). The diatom dust should be reapplied after rainstorms.

Note that diatomaceous earth sold  for swimming pool filters is not safe to use for this purpose.
WATER
This is a time of year to take the cats' water needs seriously. Consider putting out extra sources of water during the summer months, and placing them in areas that will remain cool throughout the day.
Water evaporates quickly in the summer heat, so keep bowls out of the sun. A feeding station can help provide shade. A bowl with less surface area will reduce the evaporation rate as well, so use a bowl that is narrow, but deep.
Consider putting out extra bowls of water and remember to clean and fill them daily.
If you find water bowls heating up too fast, try adding ice cubes to or placing them in shaded areas to keep them cooler. Do not use metal bowls.
TRAPPING – A SIMPLE GUIDELINE
IF IT IS TOO HOT OUTSIDE FOR YOU, IT IS TOO HOT FOR THE CATS.
If you are performing Trap-Neuter-Vaccinate-Return during the summer months, make sure to take into account the extreme heat and how it affects the cats' safety. It is possible for a cat to die from heat stroke when confined in a trap for too long.
If you trap on a hot day make sure you have someplace cool and ventilated for the cat to stay until its appointment. If the only place you have to keep your cat is a garage, consider waiting to trap until a cooler day. Remember cats in traps are already stressed, adding the stress of heat can be deadly.
If you need to trap a cat that is seriously ill or injured during extremely hot weather, pull the trapped cat indoors immediately to avoid heatstroke. Get the cat to the veterinary clinic as soon as possible.
If you trap cats in the summer make sure you don't leave the trap in direct sunlight on hot days. Also don't leave the trap on surfaces such as asphalt that will give off heat, as this can heat the bars of the trap and burn the cat's paws.
PROVIDE SHADED OUTDOOR AREAS
Make sure there are shaded spots for the cats to relax. Bushes and trees are a great cool place to relax, but don't underestimate the power of a patio umbrella, tarp or even the shade thrown by chairs.
NEVER LEAVE A CAT ALONE IN A CAR
Even if you crack the window open. It takes a matter of minutes for the car to heat up like an oven. Animals are powerless to remove themselves from this situation. They cannot cool themselves like we do and this can lead to heatstroke, brain damage, and dehydration.